Historical traffic at Liepaja Airport
After restoration of national independence Liepaja Airport has served primarily general aviation flights and air operations. With the exception of 2006-2008 when during the summer season and partly during the winter season scheduled passenger air transport test flights were carried out on the route Liepaja - Riga - Liepaja.
Historical air traffic from Liepaja Airport divided by air traffic type is given in the table below. The national airline airBaltic from June, 2006 to September, 2008 held 130 flights (1 232 passengers) in 2006, 454 flights (10 378 passengers) in 2007 and 1 393 flights (24 531 passengers) in 2008 on the route Liepaja - Riga – Liepaja.

In addition to the above, airBaltic provided scheduled passenger air services on route Liepaja – Hamburg - Liepaja (349 flights and 9 825 passengers in 2007; 430 flights and 10 655 passengers in 2008) and route Liepaja – Copenhagen - Liepaja (385 flights and 7 322 passengers in 2007; 505 flights and 8 066 passengers in 2008). Fokker-50 and ATR-42 aircraft (up to 50-seat) were used by airBaltic for these flights. Scheduled air transport was terminated in the autumn of 2008, when the state stopped to financially support flights on the route from Riga.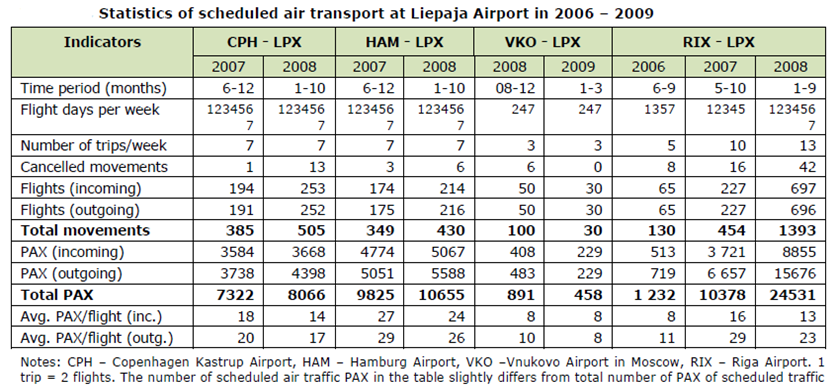 During the period between August, 2008 and March, 2009 scheduled air services on a route Liepaja – Moscow (Vnukovo airport) - Liepaja were held by the airline Atlant Soyuz with the aircraft Embraer-E120 (up to 35-seat), providing a total of 130 flights and transporting 1 101 passengers. Since 2010 this airline has terminated economic activities.
From the data in the table above, we see that in 2013 there was a rapid increase in the number of general aviation flights. This is due to the opening of general aviation flight school owned by SIA "Avio Baltica".