History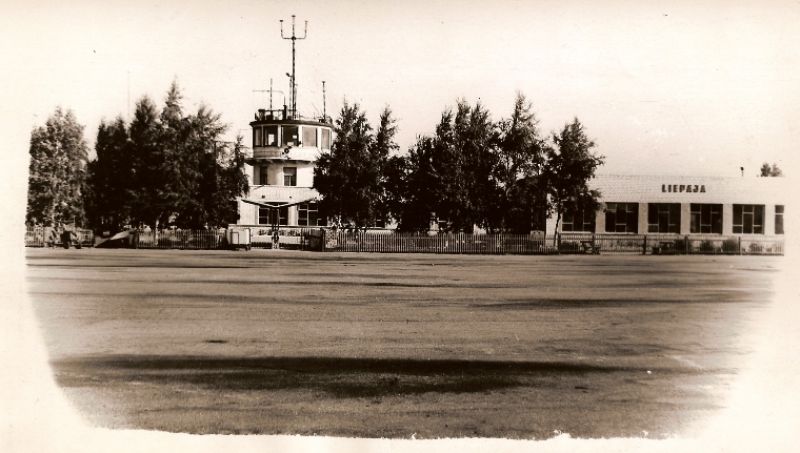 Liepaja military airfield was arranged after the base contract terms in 1940. In 22nd of June 1941 German "Luftwaffe" bombed Liepaja airfield and destroyed a large portion of the existing 69 military aircrafts of "148th Soviet fighter aviation regiment.
In the autumn of 1943 in the nearby town Grobina was created Liepaja-Grobina flying school (Flugzeugführerschule A / B Libau / Grobin), where from October 1943 to February 1944 in Liepaja aerodrome trained 25 former Latvian Aviation Regiment pilots flying with Luftwaffe aircraft Arado With 66 Latvian Night 12 battle group (Nachtschlachtgruppe 12 (Lettisch), NSGr.12). Six of them became Grobina`s War flying school instructors and up to September 1944 prepared 140 pilots. From May 1944 the Liepaja-Grobina NSGr.12 headquarters were based at the aerodrome, which in August-September redesigned for Aviation Legion "Latvia" (Luftwaffen-Legion Lettland) training part.
During the Cold War it was used as an air defense troop's airfield. In 1960 the airfield was transferred to civil aviation and from Liepaja airport was performed 6 flights a day to the Latvian capital Riga and other major cities of the USSR (Leningrad, Moscow, Kiev, Minsk, Kaliningrad, etc.), in average was handled around 100 000 passengers and 900 tons cargo per year.In 1993, the airport was transferred to Liepaja municipality and established "Aviasabiedriba" Liepaja "" Ltd.
In August 2008 the Liepaja International Airport provided air connections to four cities and from Liepaja was possible to fly to Riga, Copenhagen, Hamburg and Moscow, providing services 4 times a day to Riga, every day of the Copenhagen and Hamburg and three times a week to Moscow. Airport services used airBaltic and for flights to Riga used Fokker 50 aircraft.
To Copenhagen and Hamburg airBaltic used aircraft type ATR 42-300 which was rented from the Danish aviation company DAT Danish Air Transport and aircrafts were based in Denmark. Flights to Moscow were made by Russian airline AtlantSojuz using aircraft type Embraer 120. Currently (2015) there are no scheduled flights to/from Liepaja airport.